Need a great corporate gift? Check out Bottlepops, whose gift inventory management is powered by Unleashed!
What does your business do?
We've developed the World's Coolest Bottle Opener – the perfect corporate gift!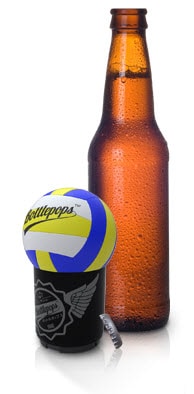 What's one of your favorite gift products?
Our Major League Baseball range in the States has been fun; we have provided historical sounds for each team – and the fans love it!
Why do you think your customers like this product range so much?
It's not very often you can enjoy a beverage with memories of your favorite sporting moment.
Can you give us a brief history of your business and the growth it has experienced so far?
Steve and I have been working on the R&D of Bottlepops for four and a half years; it's been tough but persistency is now paying off. We now have a pipeline of 400,000+ units for 2016!
Bottlepops launched into the retail space in 2014 and the appearance on Australia Channel 10's "Shark Tank Australia" gave us the exposure to show off our vision plus the investment of two Shark shareholders, Andrew Banks and Steve Baxter, who helped to fund our global rollout.
The Sharks and their team have been awesome: their network support and business training has helped us grow our company. We are now in US, Europe and NZ, as have a solid base here in Australia.
How is Unleashed helping your business grow?
Finding an inventory management system with an API that also connects to our accounting software Xero, EDI for our major retailers, multiple warehouses, production assembly and invoicing was challenging.
Unleashed ticked all these boxes at a fair price. Like any startup there's been some issues, but the support team has been responsive and understanding in our own education.
Is there a interesting customer story you could share with our readers?
Directly after Shark Tank we flew to Sydney to meet up with Andrew and Steve, and on our flight on the way home, the flight attendant recognized us from the show.
The plane went into a frenzy asking questions about Bottlepops and the show; we felt like celebrities for five minutes and we sold a few units too!
Is there something you are particularly excited for your business right now?
The new Hero/Legend range will be huge (famous heads on Bottlepops); this has a collectable focus and the interest has been very high. Watch this space!
Is there something your business in particularly proud of?
Gaining our first US license portfolio is something we are really proud of.
Are there any particular not-for-profit causes that you, or your business is passionate about, and why?
Cystic Fibrosis. It is the world's most common genetic disorder, which affects one in every 2,500 children and young adults. It affects the lungs and pancreas with most children having to receive lung transplants before the age of 30.
New science has helped with longevity, but still, the average age is 37. High doses of daily medicine and physio from the day they are diagnosed are required – from 5 weeks onwards.
Personally I would love to see a cure found as my 7-year-old daughter has CF. Research is showing they are close.
Was this content helpful?