December 22, 2015
4 min read
Why continue buying sugary drinks when there are great tasting alternatives on the market such as Appy's drinks range? We're very proud to be involved in making kids healthier all over the globe by providing food and beverage inventory management to Appy.
What does your business do?
Our business is Appy Food and Drinks; we are a multi-award winning company that makes healthier drinks for families, using only natural ingredients. Our primary customers are parents who want a better option for their children when choosing juices on supermarket shelves.
What's one of your favourite products?
Appy's Peppa Pig in Lovely Orange flavour is one of the favourites, with its subtle orange taste. We literally cannot stop drinking it every day!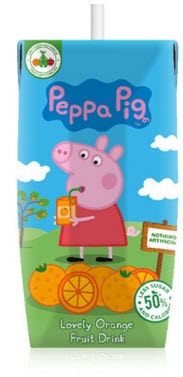 Why do you think your customers like this product so much?
I think the range is popular due to a mixture of the great taste, the 100% natural ingredients, and the low sugar and calorie content which make our products the rising star in the children's drink category. Moreover, Appy drinks are a great addition to school lunchboxes because they are School's approved, come in convenient 200ml cartons, and the beloved characters featured on the packaging make them a real hit with little ones. Check out this recent interview:
Can you give us a brief history of your food and beverage business and the growth it has experienced so far?
Appy is quite a young company that is growing fast! Following years of research into the use of natural plant stevia as a sugar substitute, we were able to launch our first healthy range of juices, featuring Nickelodeon licensing, which reduced sugar content by 50%. Since then we have more character licences under our belt, the first school's approved range of kids' drinks on the market, as well as two new drinks ranges in the pipeline – Aloha Organic, and Go Active. Our innovative approach to drinks production has allowed us to create delicious juices that are a better option for families who want to lead a healthier lifestyle the natural way.
How is Unleashed helping your food and beverage business grow?
We have acquired Unleashed for one specific reason: it has 'best before' date tracking. This means  we are able to supply our customers with up-to-date information and stock when needed, as they have different requirements for shorter or longer expiry date products. Before, we had spreadsheets supporting our daily work in the operations department. Having all the information consolidated into one system enables us to respond to requirements in a fraction of the time.
Is there an interesting customer story you could share with our readers?
We once had some fantastic news from a customer who told us her diabetic son was overjoyed at the supermarket when he chose our Teenage Mutant Ninja Turtle juice cartons and was told he could drink one without needing an injection. The mother explained that the low sugar and carbs content meant her son could finally enjoy a juice he liked, without her having to worry about his health. This made us all smile, and it is stories such as these that motivate us to produce our healthier range of drinks.
Is there something you are particularly excited for your business right now?
Yes, currently we are developing a new innovative product called Go Active, which will be sold across the UK. The drink provides 100% of our daily-recommended essential vitamins for the body to help it function at its best. The range is suitable for a vegetarian diet, and is 100% natural as well as tasting delicious.
Is there something your business in particularly proud of?
There has been plenty to be proud since our launch, including numerous prestigious awards which we have accumulated, however, we have to say that having our products being taken on by Tesco, one of the country's biggest supermarkets, has been a huge achievement for us.
Are there any particular not-for-profit cause that you, or your business is passionate about?
We support many good causes and projects through our Appy Family Club programme, which aims to encourage local communities to lead a healthier lifestyle through fun yet educational workshops and events. We are also passionate about charities and have recently raised money for Children in Need, Make a Wish Foundation and Save The Children.
Was this content helpful?